Google business profile optimization: how to do it in 2024 [13 ranking steps]
Any local business needs to at least be visible on Google Search and Google Maps, if not rank highly in the search results. As of January 2023, Google had a market share of more than 90 percent when compared with other search engines.

This statistic just shows that more people prefer to search Google than Yahoo, Bing, DuckDuckGo, and other tools like Chat GPT.
Many business owners are already doing their best to be visible online, particularly in Google Search and Google Maps. In fact, many businesses have already created and started optimizing their websites using different local SEO strategies.
However, there is another important area that does not receive that much attention but also needs optimization. And that is your Google Business (GMB/GBP) listing.
The Google My Business listing is a powerful local listing that lets people know what your business is all about. The business app is no longer available, and online-only businesses with a validated listing are eligible to edit their profile directly from Google Search.
If properly optimized, it helps customers easily and quickly find your business or learn about it from the local search results. The best part about the Google My Business listing is that it's free.

The GMB Crush software is designed to assist business owners, Local Search agencies, and SEO freelancers in comparing their Google Local profiles against the top three. With our software, users can create automated GMB/GBP optimization plans and access advanced analytics data.

This enables you to identify areas that need optimization and track your GMB/GBP profile performance in terms of phone calls, clicks, and store visits.
GBP Optimization Benefits in 2024
Before we talk about optimization strategies, let's find out some of the proven benefits of having an optimized Google My Business account.
1. Google My Business helps you show up on Google Maps
More than 85 percent of people use Google Maps to locate local businesses. If your brick-and-mortar location is convenient for potential customers, they are more likely to visit your location and make a purchase.
For example, if you are a Chinese restaurant located in Boston, having an optimized business listing allows people to see your business listing, which includes your business name, review rating, type of business, address, and business hours. They will also see your location on Google Maps.
With all this business information in one place, it is very convenient for potential customers to locate you.
2. Google My Business boosts your ranking in Google Search
When Google ranks Local Profiles, they consider proximity, authority, and relevance to find the best match for what potential customers are looking for. If you have completed and optimized your profile, there's a big chance that your business will rank higher in local search results. At best, your business may be listed in the local pack.

At present, Google displays a "Profile Strength" gauge beside every Google business listing. Boosting the strength of your profile entails filling in all the accessible fields, uploading the company's logo and pictures, and ensuring that all fields are completed. This is an excellent way to maximize your profile's effectiveness.

The local pack appears just below the paid ads and before the organic search results. In mobile devices, businesses listed in the local pack appear above the fold and are the first thing that people see. They don't have to scroll to see your business on the list.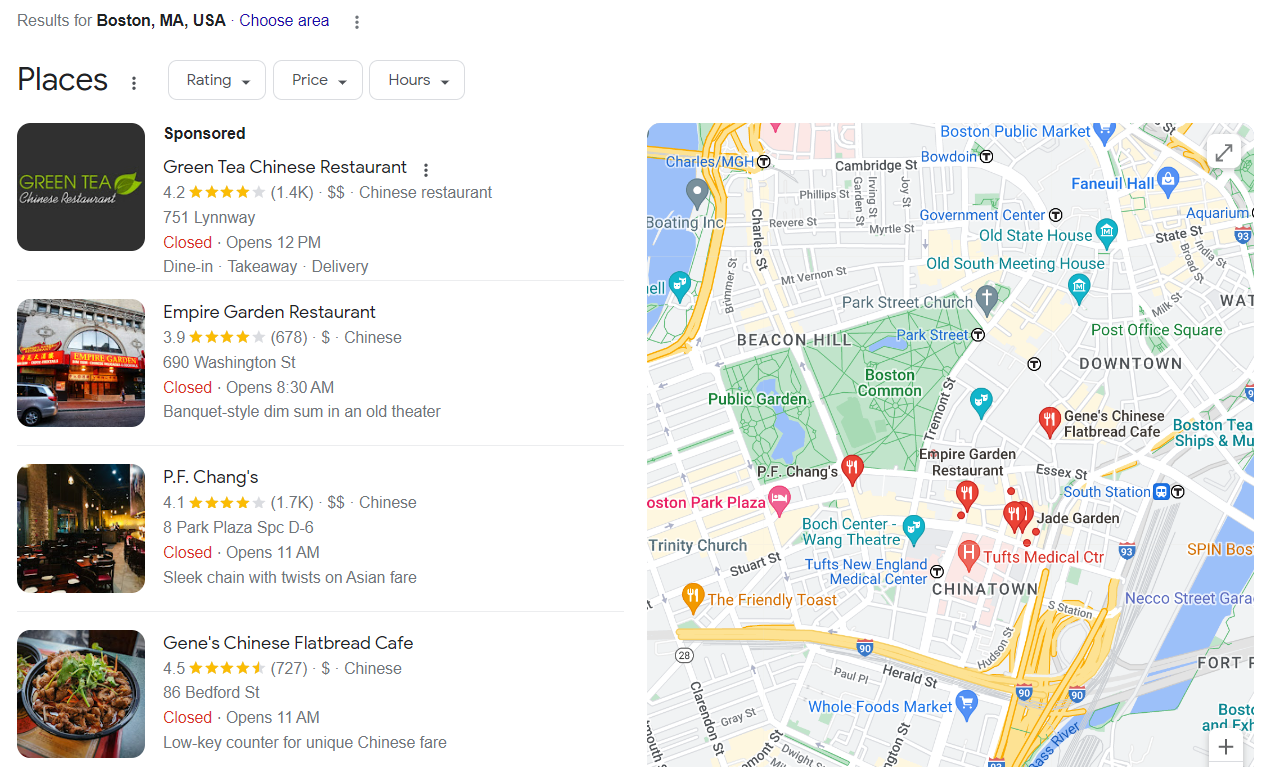 This position is crucial to getting more traffic or visits. If your business is not listed in the local pack listings, your chances of getting more potential customers are significantly reduced.
3. Google My Business increases customer engagement
Having a Google business listing does not give you the assurance of acquiring customers. Other local businesses will most likely have their own listings as well. Optimizing your Google My Business listing with a well-planned strategy can make a significant impact. Your ultimate objective should be to examine the top 3 performers and their techniques and optimize your own listing accordingly, based on what Google recognizes as valuable. This approach is more effective than simply completing your business information, like other enterprises that lack an SEO strategy.
Consumers will be able to discover you through different direct searches or local searches. From there, they can easily send direction requests, make phone calls, or visit your website, and ultimately make a purchase decision. And it doesn't stop there. You may also encourage customer engagement by encouraging them to leave reviews for your business or contribute pictures or posts. All of them can further improve your visibility.
4. Google My Business helps you get ahead of other service area businesses in search queries
Your competitors may already have their GMB/GBP listings, but what can set you apart is how you optimize your account.
There are many effective ways to optimize your business listing. If you know them and apply them to your account, you will be able to work your way up on the results page for your service area.
To enhance your service area profile, a recommended strategy is to include all service area information in your Google profile and create separate location pages on your website with the same details. By executing this properly, your business can distinguish itself in local searches and attract traffic to your website from those specific service areas.
5. Google My Business SEO helps you get more new customers
Search engine optimization can be time-consuming, but the results will be worth it.
The ultimate goal of utilizing your GMB/GBP listing in your digital marketing and SEO endeavors is to generate more clicks from potential visitors who convert into customers. However, even if you're ranking highly on local search result pages, if your Google searches aren't accurately matching your target audience, it's highly likely that you need to revise your Google profile optimization.
Clicks and engagement rates contribute to the ranking algorithm. It's crucial to send positive ranking signals to Google by keeping your current customers engaged, as this can help establish trust. Ensure that you respond to all reviews and activate your GMB/GBP messaging feature to demonstrate trust and activity to Google.
14 Effective Ways to Optimize Your Google My Business Listing
GMB Crush is a valuable tool for Local SEO that can assist you in auditing your Google profile, evaluating its ranking across multiple regions through a geo-grid feature, and accessing analytical data related to your Google business listing.

In addition, with our tool, you can monitor important business statistics such as CTR, phone calls, and driving direction requests.
Furthermore, in this article, we offer 16 steps for optimizing your Google profile, and for each step, we demonstrate how GMB Crush can provide additional optimization insights that can help you achieve better results in the local 3 pack.
By subscribing to GMB Crush, you can access training videos and step-by-step SOP sheets that can guide you through the optimization process and eliminate guesswork from your SEO workflow.
1. Account Set-up
First and foremost, you need to create your GMB/GBP listing profile. Setting up your account is easy, and you can do it at no cost. You just have to be extra careful with the information you add to it. This is an essential step in your digital marketing strategy.
When creating an account, just head to business.google.com/create and sign in using your business email address. The online form is composed of different sections. Don't rush to complete the form, but make sure to complete every section and provide accurate information.
If you feel motivated to create your Google My Business account now, just follow these steps:
Step #1. Once you are on the "create" page, type in the name of your business in the Find and Manage Your GMB Listing field. If you would like to go on adding your business name, click the pop-up message or click the Add your business to Google link.
Step #2. Provide the name of your business. This should be the same name you use in the real world. It's important to note that if you add unnecessary keywords in your name, Google may suspend your listing.
Step #3. Select the primary business category that best fits your business. More often than not, Google will suggest a number of options that you can choose from. If your business falls into more than one category, do not worry; you'll be able to add more.
Step #4. Decide whether or not you want to add a location that will appear on Google Maps and Google Search. If you choose Yes, then add your address. The address you add here should be the same address you have in your social media account and other listings across the internet.
Step #5. Review other possible listings. If Google sees that your listing has possible matches, it will ask, Is this your business? If none of the businesses on the list are yours, just select None of These to proceed.
Step #6. Indicate if you want to serve customers outside of your location or not. If you choose yes, you will be able to choose the areas where you want to serve. You can add multiple business locations.
Step #7. Add your business contact details, which include your phone number and business website.
Step #8. Choose whether or not you want to receive updates on Google.
Step #9. You are already done adding the necessary details. All you need to do is click Finish. At this point, you have the option to verify your listing, which you can do instantly by making an automated phone call or by sending a postcard to your business address, which can take up to 4 days to arrive. You may also choose to verify later, but not verifying means you can't fully manage your account.
Step #10. Once verified, you can now manage your Google My Business account and add your logo, photos, and more.
It's important to note that Google may have added business hours to your Google My Business listing. Double-check if it is correct by going to the main menu and clicking Info. From there, you can edit your business hours if needed.

GMB Crush's Audit feature allows you to select any local profile of your choice, even if you are not managing it, and compare it against the top three performers.



The top part of the Audit report includes the following:
Overall Score: This score holds you accountable for all the components listed on the top-to-bottom audit. GMB Crush assists you in optimizing your strategy through precise data analysis. Therefore, it is crucial to ensure that your Google My Business (GMB) listing is fully settled to increase your chances of success.
Claimed and Unclaimed Listings: It's important to identify any unclaimed listing rankings on the 3-pack so that you can take advantage of them. For example, if you are running an Audit for a potential client, you can show them that their listing is still unclaimed.
Summary: The summary section shows for which listings, devices, keywords, and locations the report is running.
Note: The report can be white-labeled with your company logo, and you can blur or hide any sections (adding a call to action on top). Additionally, you can download and embed the report on your website.
2. Contact information
Your contact information is one of the most important details in your GMB/GBP account. For this reason, you need to be extra careful when filling out the right contact details to the tee.
For the business name, indicate the same name you show on your signage, receipts, social media, and public business listings online and offline.
Adding a location name or keyword that's not really part of your actual name is considered spam, and Google may penalize you. Any inconsistency in your business name may be taken against you when Google assesses your credibility.
The same is true for your contact number. Make sure to be consistent with the numbers at which your customers can reach you. And if, for one reason or another, one of the numbers you indicated is no longer working or available, make sure to update this information in all your business listings.
3. Choose Your Categories
More than 80 percent of GMB listing views on Google My Business come from discovery searches, wherein consumers conduct local searches for a service, product, or category term.

That is why it's important that your business is listed in the right category so that you can get a bigger audience from people who do local searches.
Once you have selected a category, you can then highlight specific features under that category to make your profile more attractive. For example, if you have a restaurant business, you can include a menu in your profile or add a reservation button. Other categories have their own special features.
When choosing a category, you could follow these tips:
Be specific. If you are a restaurant business, don't just say a restaurant," but also indicate what kind of restaurant business you operate, like "Italian Restaurant" or "Chinese Restaurant." There are more than 3,000 business categories, so don't settle for a very generic category.
Choose a secondary category. Many businesses can fall into multiple categories. So if you think there are several categories that may apply to your business, choose the main category that reflects your primary business offering, and then add additional categories for other services you offer in the area.

Pro-tip:

Step 1: Conduct a thorough audit of the top 3 Google Business profiles using GMB Crush. Access the "About" section in the Category audit and optimize your profile by incorporating the suggested business categories.

GMB Crush's audit section for categories offers a comprehensive view of the main and supplementary categories utilized by your rivals. By leveraging this data and utilizing the tool's recommendations, you can enhance your own listing. It's crucial to fully optimize your website's homepage for the primary business category and have a dedicated page for each supplementary category that targets the associated products or services.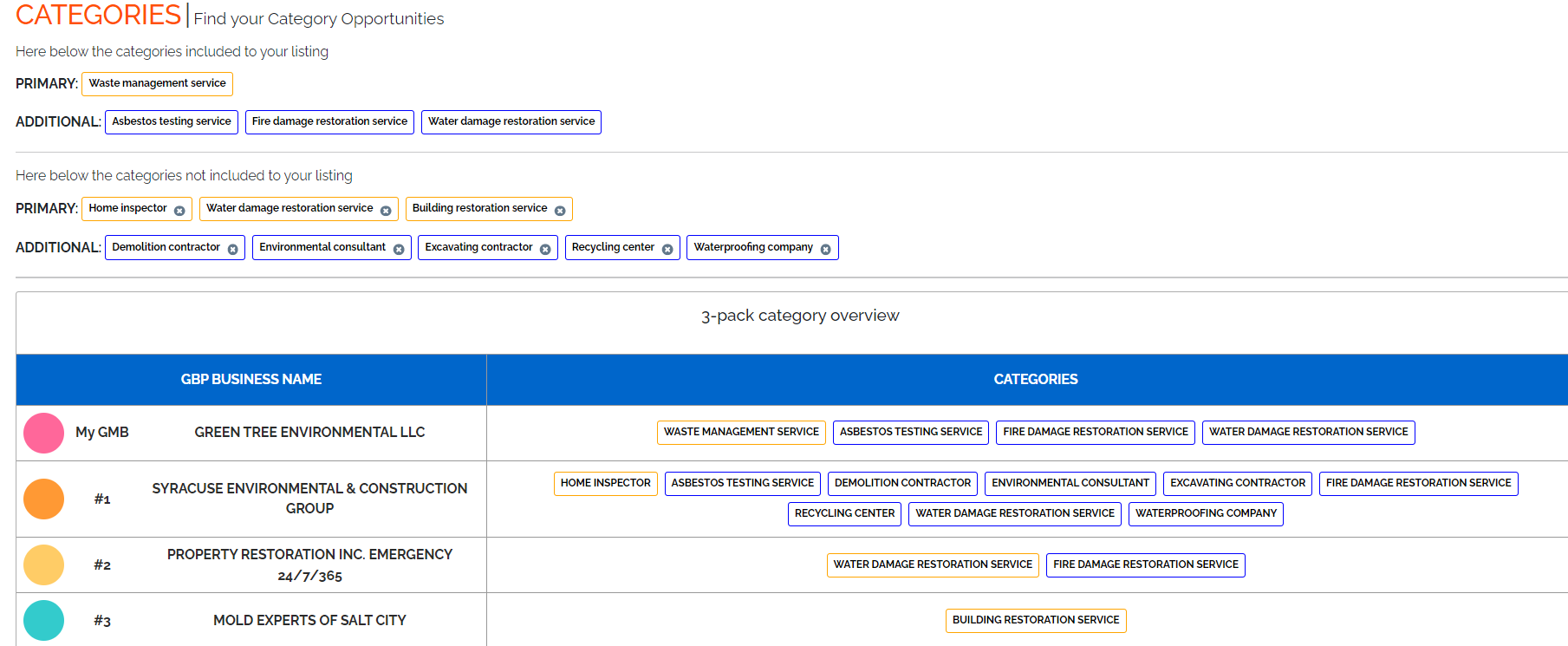 Step 2: Ensure that the content on your homepage is closely aligned with your primary business category by following this helpful video:



As mentioned in the previous step create a single page for any additional business categories and use the video to audit and optimize the content.
Step 3: Develop location pages that target your primary keyword and location, utilizing the previous video to audit and optimize the content. Include H-tags that mention variations of your keyword and location in each piece of content.

Your selection of primary and additional business categories can affect your business profile's ability to rank higher. Each category carries its own weight in the ranking algorithm.

The selection of primary and additional business categories can greatly affect the ranking potential of a local profile. Each category carries its own weight in determining rankings.

For a comprehensive understanding, the GMB Crush audit feature can reveal which local justifications are responsible for triggering local 3-pack results.



…In the "Organic Insights" section, we monitor whether a listing that is already ranking in the local 3-pack is also appearing in the organic search results on the SERP.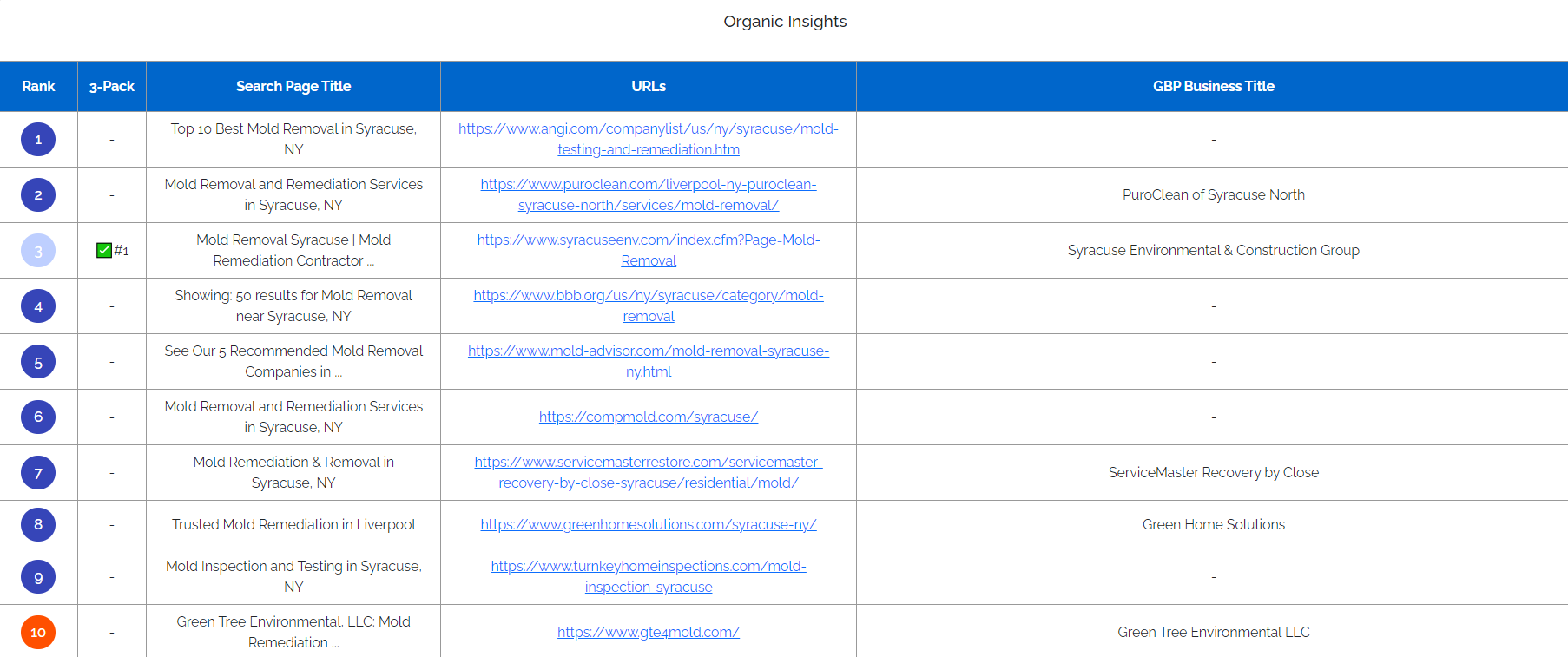 The Geo-Grid report not only displays your listing's ranking across multiple geographies but also your competitors' rankings. Unique to this tool, clicking on each pin on the map reveals the associated geolocation of the ranking results. This feature can provide you with ideas on location pages to create and add to your website, thereby expanding your ranking proximity and site authority. Additionally, clicking on the backlink icon will redirect you to Google Maps, allowing you to see in detail which location is associated with each ranking pin.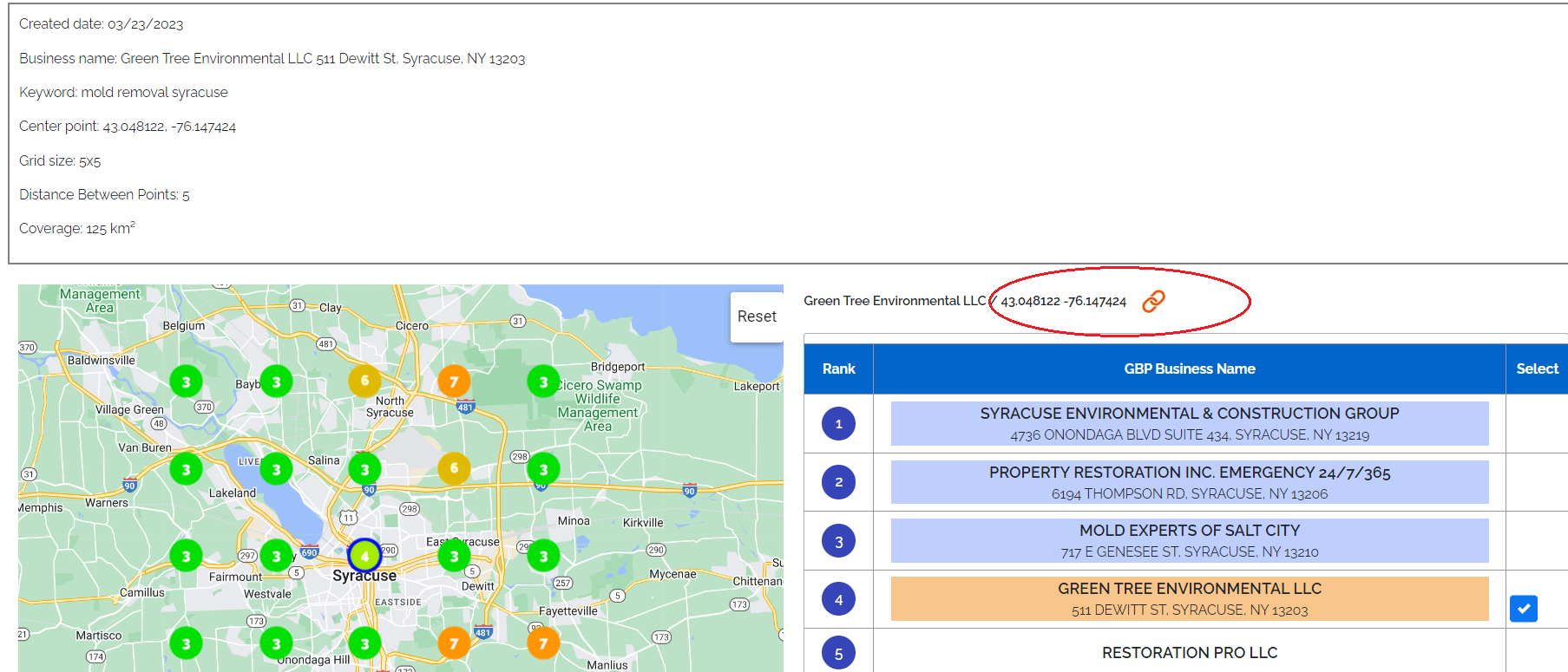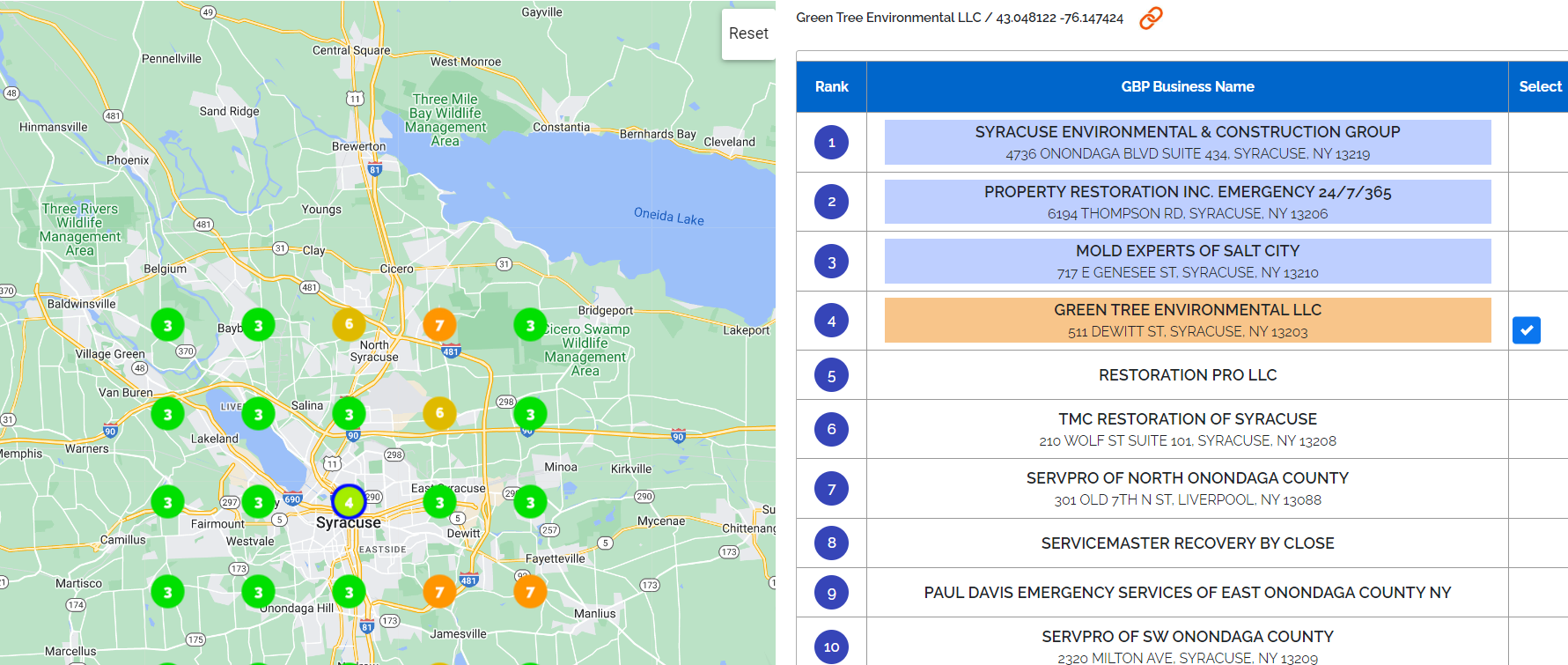 The "average ranking tab" compiles supplementary data insights pertaining to the rating, reviews, share of voice, and average ranking of listings on Google Maps.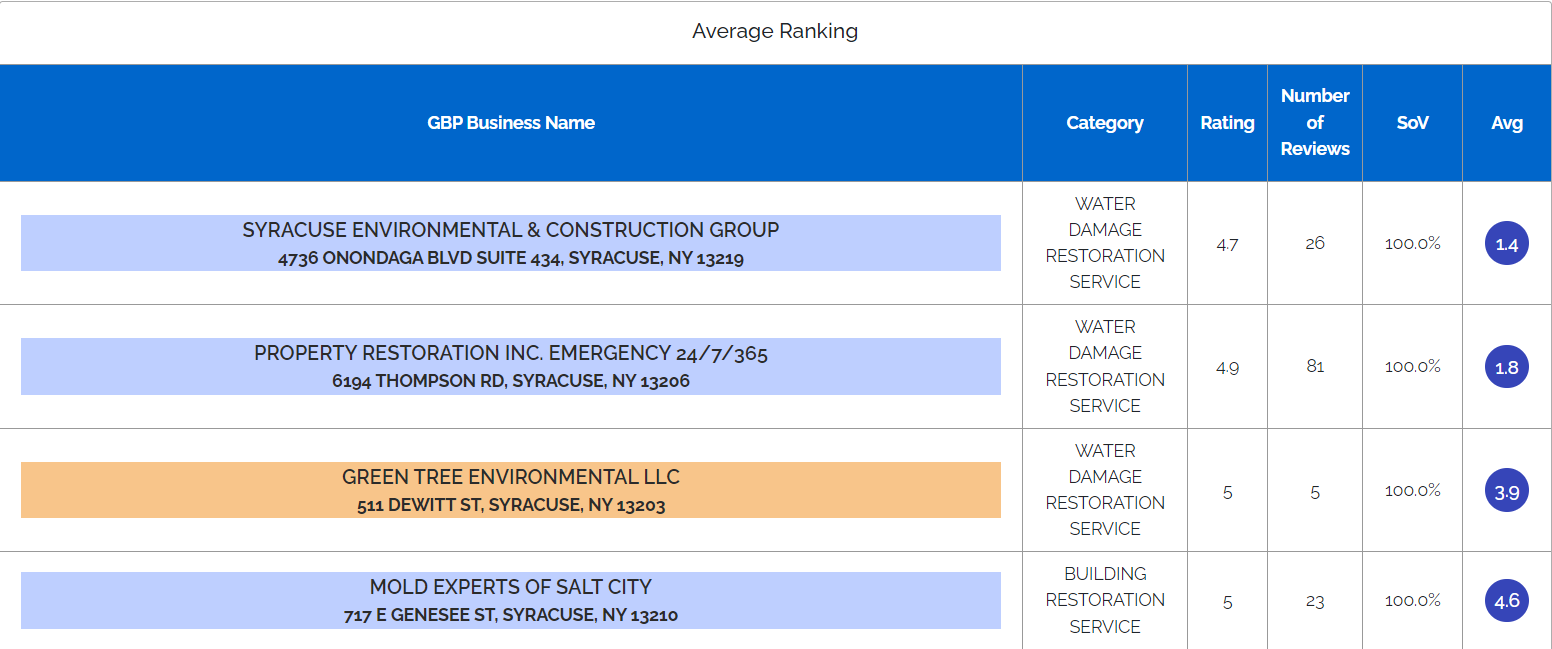 4. Choose relevant attributes
After choosing a category for your Google My Business listing, Google allows you to check certain attributes that describe your business. The attributes that you can select will depend on the category you choose.
Attributes could refer to accessibility, activities, amenities, crowds, lodging options, dining options, highlights, offerings, payments, and more.

Here are some tips for optimizing the page in order to maximize its potential benefits!
By selecting the suggested attributes yourself or letting users pick their own, you can keep track of what is being said about the business.
You will receive a notification when someone clicks "answer quick questions!" from the Google My Business dashboard so that these changes are automatically reflected online too.
It's important to stay on top of your profile to make sure that the suggested attributes are accurate!
Once you've launched an Audit, we recommend that you audit which business attributes the listing is missing out on. We advise reviewing your top 3 competitors' listings and implementing those missed elements to increase the ranking of the GMB Listing overall.


Make sure information fits with what's happening at YOUR company before adding it to theirs – don't stuff unrepresentative data just for the sake of optimization!
All the Business attributes highlighted in orange are missing from the GMB listing you're working on.
5. Zip Code Insights
In the battle for clicks, it's important to keep in mind that local Centroids are now individual users. Instead of making your GMB listing appealing to people nationwide, you should focus on meeting the needs of niche markets and specific groups.
Because Google can find neighborhoods and streets, hyperlocal information is an important part of your business data. That means in today's world, the relationship between where a customer is when he performs a search and where you are physically located can be more important than ever before.
We know that competition for your business can be tough, which is why we're analyzing the level of it in each zip code. GMB Crush's Zip Code Analysis Section audits which location your competitor's office is in and how crowded certain zip codes are.
This reflects the level of competition in a given area versus Google's clustering around them with their algorithms, meaning that they'll show more results from shops or businesses located near this specific area as opposed to others who may be further away but still offer similar services or products.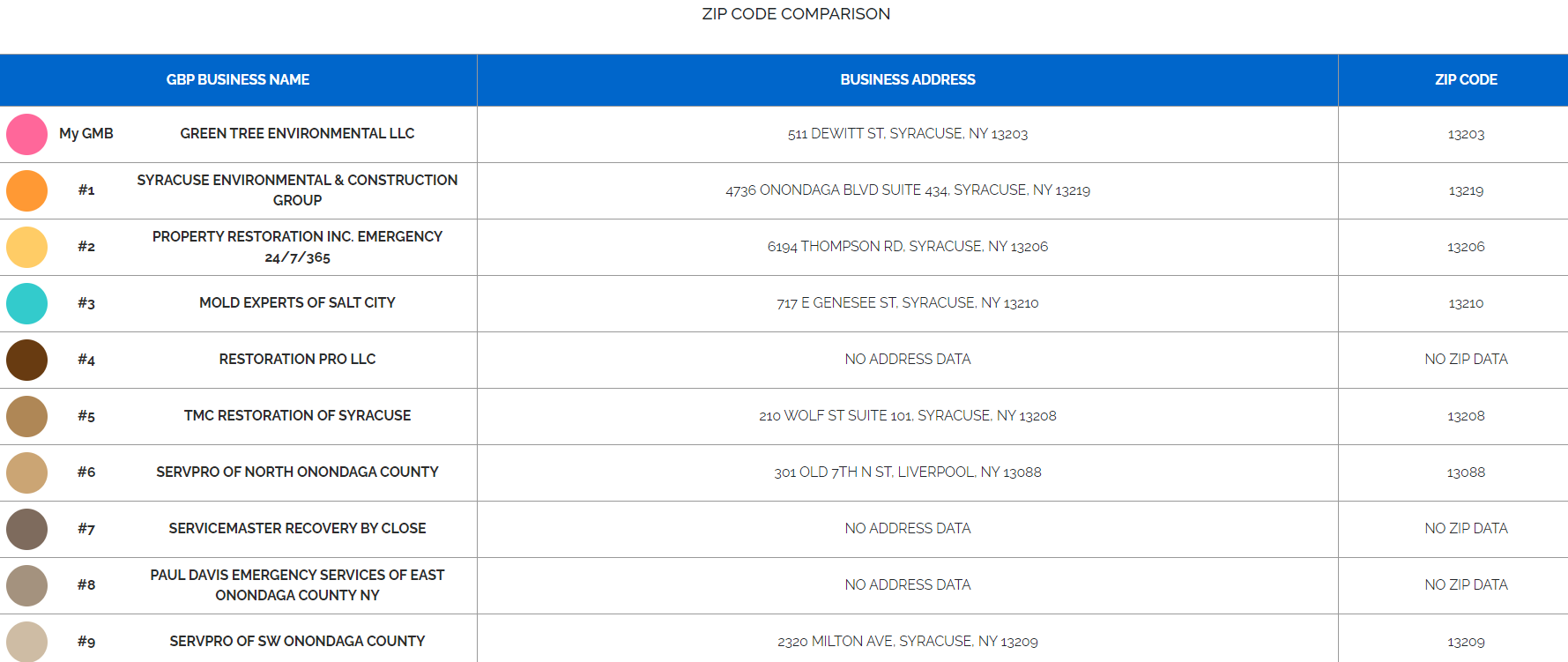 6. Quality photos
Anyone can add photos to your GMB listing, which means that your photos can vary in quality. By adding quality photos, you can ensure that there are great photos that Google can pick to show for relevant searches.
There are three types of photos you can add to your listing. These are your logo, cover photo, and regular business photos.
The logo helps customers easily recognize your business online. On the other hand, the cover photo is a picture that sits at the top of your profile. Use a cover photo that best represents your brand. The third type is your business photos, which could be photos of your products, services, events, location, or anything in between.
For photos, Google My Business requires them to be at least 720 pixels by 720 pixels in either JPG or PNG format.
According to Google, people are 42 percent more likely to request driving directions if their listing has photos.
With the big impact of photos on capturing your target audience, this does not mean that you should dump hundreds of photos all at once.
Here are some effective tips for adding photos to your GMB listing:
Use your logo for the thumbnail photo.
Follow Google's photo guidelines for requirements and specifications.
Include photos of your happy customers.
Do not use stock photos or heavily edited photos for your branding.
Add geotags to your photos to show Google your prominence as a service area business.
Add quality videos too!
In the GMB Crush photo audit section, you can view the number of photos present on each GBP profile. In addition, we have included video tutorials for monthly and yearly users, providing insights on how to determine the number of photos published by the listing owner versus those uploaded by clients or local guides ( which carry more weight in terms of authority and engagement demonstrated by the reviewer profile ).

7. Business posts
A Google My Business listing works like a social media account in that you can also add posts or updates to your profile. You can let people know of your new products, business offers, upcoming events, discounts or promotions, and other special activities.
Google Posts show up in the Updates section of your profile. Your posts will greatly help your customers know what you are currently doing and keep them updated if you have business offers they need to watch out for. Just like adding photos on a regular basis, adding Google posts also sends positive ranking signals to Google, which is good for your local SEO campaign.

The GMB Crush's Google Business Post Audit section discloses crucial information about the top three competitors, including their total Google post count, all published business content within the last 90 days, and the corresponding Google My Business snippet displayed for each post.

By analyzing this data, you can quickly grasp how your competitors are structuring their Google posts and which type of content is most effective in driving results. Furthermore, the audit provides insights on the call to action utilized in each Google post and the webpage URL linked to each business post.
GMB Crush displays Google My Business post data regardless of the posting frequency and dates of each listing, in addition to the previously mentioned data points. In this case, it's not surprising that the listing ranking #1 has high post activity and excellent content.


To get started optimizing your GMB listing with Google posts, here are some tips to help you:
Post regularly. Posting regularly on the GMB listing sends signals to Google that your listing is active, and it works the same way as adding photos. Apart from that, certain posts expire in seven days, so if you want to engage and keep your customers updated, make sure to add relevant posts on a timely basis.
Take advantage of posts to inform customers of your marketing campaigns, especially those that have a timeline. When adding to Google My Business a post that ends on a certain date, you can simply choose a date range for the posts to stay live.
Include a "call now" button that links to your verified business phone number. Google My Business does not allow posts to contain a phone number, but it does allow you to attach a button that directs customers to your phone number. Customers can make phone calls by clicking the button.
We suggest adding a CTA button, such as "learn more" or "book now," which generates do-follow links, to connect each business post with relevant pages on your website.
Double-check your posts for misspellings before posting. Moreover, make sure that your post does not contain gimmicky characters or automated or distracting content, as it may get rejected.
Make sure to create high-quality location pages on your website if you run a service area business, and ensure that every GBP post includes a link back to them. By doing so, you'll be replicating your website's content through your business posting strategy.
Keep your Google My Business (GMB) posts respectful. Google will not approve your post if it contains profane, obscene, or offensive content.
Ensure that your GMB Listing and your posts follow the Google My Business content policy.

NOTE: Upon subscribing to any Yearly plan of GMB Crush, you will gain instant access to 52 training videos that comprehensively guide you through the process of creating compelling Google Business Page posts, thereby enhancing the visibility and ranking of your GBP profile.
8. Reviews
For many consumers, Google reviews matter when it comes to choosing a product or service. And Google is aware that reviews are the number one factor that consumers consider before making a decision.
Reviews are a vital ranking factor. If you want to see it for yourself, try searching for a service provider in your area. From the results page, you should see the Local 3-Pack.
You will notice that the businesses listed in the Local 3-Pack are those with many positive reviews or high star ratings. Moreover, if the reviews contain relevant keywords, they may also appear in Google results.
There are several ways you can take advantage of reviews to optimize your Google My Business listing.

Not only does the review section of GMB Crush display the rating and review count of each listing, but it also provides a breakdown of the specific types of ratings associated with each review.

Additionally, the most significant keywords from your competitor's reviews are highlighted in orange for easy identification.


Here are some suggestions for obtaining additional reviews (excluding paid reviews) and improving your rankings.
Encourage customers to leave a review.
Make it easy for customers to leave a review by posting or sharing your review shortcut link.
Just ask. You have nothing to lose when you ask your customers to share their feedback about their experience with your business. More than 50 percent of customers are willing to leave a review when asked. You can ask via text, social media, email, or a small poster in your establishment.
Remind customers that reviews will help you improve your services, so it is also they who will benefit from sharing their feedback.
Create a review page on your business website and make it easy for people to write a review.
Respond to reviews on a timely basis. Whether it is a positive or negative review, your response will show that you hear what your customers are saying and that you care. This will not only help improve your relevance but also increase customer engagement.
Follow Google My Business guidelines for business reviews. Remember that it is not allowed to incentivize reviews.
9. Business description
When there is no GMB/GBP description in your client's listing, Google will pull out business details from social media accounts connected to the website.

We feel this can be an upcoming trend on Google because of how often they rewrite meta descriptions over 70 percent of the time, and it might happen soon for all listings with poor/short descriptions or no description at all.
Performing several tests, we noticed how multi-location businesses ignore having such important information about them in their profile, so you should address this issue during the optimization process too!
It is always better to be safe than sorry. Having a clean, well-optimized social media profile will help your Google My Business (GMB) listing get more attention from potential customers and clients who are looking for what you have to offer.
As we know that Google has been getting smarter with reading entities, it would be really nice if your Google Business listings were not linked to obsolete profiles. It can be a huge turn-off for potential customers, and it's not really what you want on your listing!
To optimize your Google My Business (GMB/GBP) listing fully, we recommend including a brief description of how your business supports its customers and any relevant zip codes or service areas related to your targeted main location. Additionally, it's crucial to provide information on how customers interact with your business, such as through online ordering or appointment scheduling.
Unfortunately, the average business fails to recognize the importance of optimizing every aspect of its local listing. However, by incorporating these details, you can differentiate your business and increase your visibility.
Moreover, it's important to mention relevant zip codes and nearby geographic locations on your website content to help customers locate your business more easily, especially for businesses with physical storefronts or service areas.
On average, businesses do not fully optimize their profiles, leaving a significant opportunity for those who do. You can stay one step ahead of the competition and increase the likelihood that potential customers will find you by putting these strategies into practice. So take advantage of this opportunity and make the most out of your GMB/GBP listing, highlighting your business support and providing ways for customers to interact with you.

Once again, mention your primary and additional categories, and additionally, remember that:

👉It's okay to include an email address
👉Including a phone number is fine

👉Don't pitch sales

The GMB title and description audit section of GMB Crush shows how prominent certain keywords are on the top 3 listings as well as what appears to be a long (spammy ?) business name.

You can see which keywords your rivals are using with this information. In addition, your competitors might be targeting different keywords than you.
Please be sure that any change you would like to implement to your business title won't break up the Google My Business Terms and Conditions.

The GMB DESCRIPTION LENGTH and keywords provide information on the number of words used by competitors in their descriptions, as well as the most relevant keywords they use.
While the Google business description itself is not a direct ranking factor, including relevant keywords can increase engagement and clicks, which can have a direct impact on your listing's ranking.

10. Products/Services
Adding your products and services can be very helpful, especially if your business name does not clearly state what you are offering or if you are offering more products than you can describe in your product name.
Additionally, completing this section also adds value to your profile and will help you rank for more relevant searches.
All categories of small- to medium-sized businesses, except for a few verticals, are eligible to showcase their products or services. Larger businesses can add products through Local Inventory Ads.
When you add products and services, include the name, photos, clear description, and price when applicable. This information helps Google understand what your business is about. Apart from that, Google may also link your product and service to relevant services in your business category.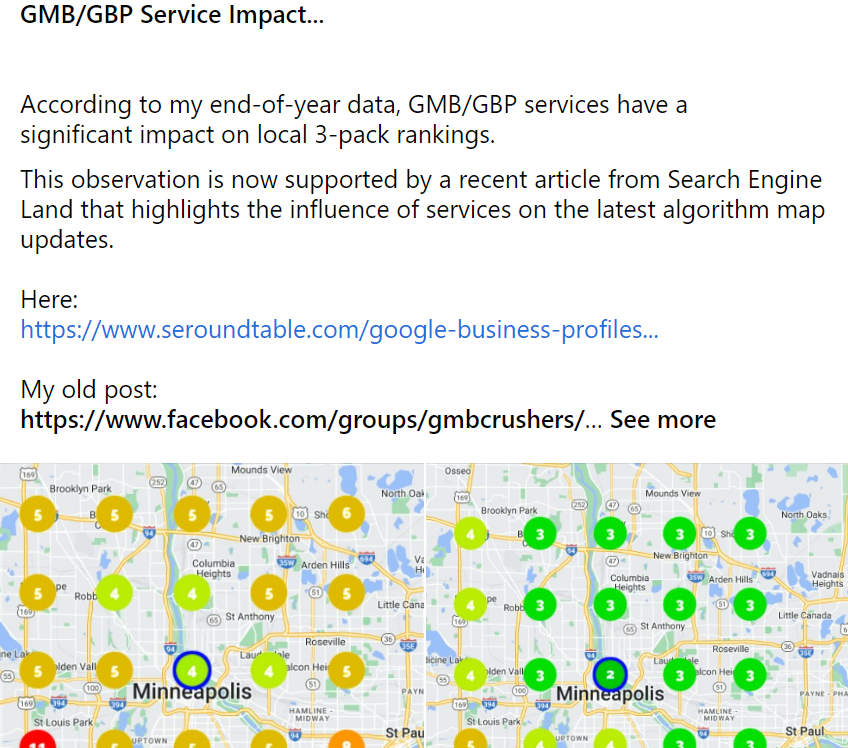 Here are some tips on how to optimize your GMB listing by adding products or services:
Newly updated products and categories are displayed first in the Product Catalog. If you want to showcase a product that was added weeks ago, just make a minor edit to it to bring it to the top of the list. It may take some time for the list to be updated, so it's a good idea to wait for a few minutes and then refresh the page to see if the product you want to highlight is already at the top of the list.
To ensure that customers who are searching using their computer or mobile device see what you have to offer, add your products on the Products tab of your Business Profile Manager.
Do not add regulated products or services such as alcohol, gambling, tobacco, pharmaceuticals, and financial and medical services. Google does not allow them.
If you submit products that violate the policy, it may result in the removal of your product catalog along with all the products you listed, including those that are not in violation.
11. Faq's
In addition to product descriptions and customer reviews, Google also offers the Questions & Answers portion in Google My Business. But the caveat here is that anyone can ask and answer questions.
When anyone can just submit an answer to a particular question, incorrect answers can end up on your page. That is why it is critical that you review questions so that you can provide correct answers before anyone else can provide a wrong answer.
Providing answers to commonly asked questions in your profile can help customers better understand your business and what you have to offer. This also builds trust because they can see that you hear what they say and take the time to answer their questions.

By subscribing to the GMB Crush annual package, you will gain instant access to a set of multiple video tutorials. These tutorials cover a variety of optimization procedures, including step-by-step instructions on how to leverage prompt engineering with Chat GPT. This will enable you to create impactful FAQ sections, Google posts, and other essential content to elevate your Google business profile optimization strategy.
Here are some tips on how to make the Questions & Answers portion work for your local business:
Make a list of questions your customers are most likely to ask and add them in. If possible, interview some customers so that you'll know their point of view. Once you have identified the questions, dedicate time to provide thorough and accurate answers.

Set up alerts so you are updated when someone posts a question or answer to your profile.

Upvote your answers so that they are the first ones your customers see when they try to look for an answer to a specific question. Upvoting does not go against Google policy, and in fact, they encourage it.

Keep keywords in mind when you post a question or answer, but use them organically and naturally. Adding keywords to this part of your profile can help you easily get found in keyword searches.
You can't turn off the Questions and Answers feature of your Google my business profile. And depending on how you manage it, this feature can be for you or against you. By following the tips we mentioned, you could utilize this feature to help in your online marketing.

12. Business Messaging
To allow customers to interact with you in real-time
Simply put, Google My Business messaging is a free tool that connects customers to the business, in real-time. Potential customers can send you a message directly from the Google results page, instead of going through the trouble of going to your website and looking for your phone number or email.
It means that a person requesting directions or is interested to learn more about your business can easily and quickly get in touch with you, hassle-free. This in turn increases customer engagement and trust.
Unlike other features that are automatically activated once you create an account, the messaging feature needs to be turned on. Once you turn it on, people who are viewing your listing in Google Search and Google Maps app will be able to press a Message button to contact you. You can also receive message notifications if you check off "Customer messages" under Settings.
Here are some useful tips when setting up messaging:
Respond to your messages within 24 hours. Google will hide your Message button if you do not do so. This is to encourage local businesses to prioritize answering questions on a timely basis. Moreover, customers will see how responsive you are because it will be displayed in your profile. Depending on how fast or slow you respond, your profile may show "Usually responds in a few minutes," "Usually responds in a few hours," "Usually responds in a day," and "Usually responds in a few days."

Messaging allows you to show your brand personality and the type of customer service you offer. Write a welcome message that reflects your brand. The welcome message is the message the customers will see when they click the Message button. Make your welcome message short and warm and something that could create a positive impression about your service. In your welcome message, greet your customers and thank them for getting in touch. This will help establish a connection between you and the customer. Also, don't forget to ask a direct question to know why the customer contacted you. By doing so, you are also telling the customer that you are interested to help.
Turn on your notifications. This will ensure that you see your new messages coming. Knowing that you received a message is the first step to having a 24-hour response time that enables you to keep your Message button active.

Do not ignore spam messages. You can't avoid getting spam messages posted by bots. If you do, do not ignore them, but instead mark them as spam. This will block the senders and prevent them from sending more spam messages to your inbox. Moreover, ignoring spam messages will affect your response time. To mark and report a message as spam, go to Messages and click on the particular message you want to report. Choose Block / Report Spam then select the action that makes sense.

When responding to messages, keep the conversation relevant and make sure to address the concern. So if a customer would like to request a refund, discuss your refund policy instead of promoting your new product.

Do not use profanity or expletives even if the customer is rude. Remember that your messages reflect your brand, so be professional in handling your customers. You should know how to pacify angry customers so that at the end of the chat, you still gain their trust.

With messaging, aside from texts, you can also share photos with your customers and vice versa. Visuals can be more effective and efficient in helping your customers, and this is especially true if you are discussing technical issues.
13. Your Website
To maximize your local 3-pack rankings, it's essential to incorporate your marketing efforts through your website. A strong website is crucial in Google Maps SEO and can significantly impact your online visibility and attract new customers to your brick-and-mortar location.
An optimized website that is mobile-friendly, fast-loading, and contains relevant content can lead to better user experience and improved local 3-pack rankings. Not only that, but it can also provide an avenue for customer interaction and engagement, which can further increase your chances of acquiring new customers.
Backlinks also play a crucial role in local 3-pack rankings. By acquiring high-quality backlinks from authoritative websites, you can signal to Google that your website is trustworthy and an excellent source of information, which can ultimately boost your online credibility and visibility.
Creating a website can also help establish and promote your business's online presence at a hyperlocal level. It can lead to increased brand awareness and engagement, which can result in a higher ranking in top search queries for business types and businesses similar to yours.
Therefore, investing in a strong website can significantly improve your local 3-pack rankings, attract new customers, and enhance your overall marketing efforts.
Overall, while having a website is just one piece of the puzzle when it comes to local 3-pack rankings, it can play an important role in boosting your visibility and establishing your business as a credible source of information in your local market.

There are several reasons why GMB Crush audits website data to provide better insights into the top 3 maps performers:

Home page speed: The speed at which a website load is an important factor in determining its search engine ranking. By analyzing the home page speed of the top 3 maps performers, GMB Crush can provide valuable insights into how businesses can optimize their websites for faster load times and improved user experience.
Insights on the number of indexed pages: The number of pages indexed by Google can impact a website's search engine ranking. By analyzing the number of indexed pages of the top 3 maps performers, GMB Crush can provide insights into how businesses can optimize their websites for better local visibility.
Domain authority of each player: Domain authority is a metric that predicts how well a website will rank in search engine results. By analyzing the domain authority of the top 3 maps performers, GMB Crush can provide insights into how businesses can improve their own domain authority to rank higher in the 3-pack.
Brand rating: Good branding can improve a business's ability to catch the consumer's eye on search engine results pages and gain more clicks. By analyzing the brand rating of the top 3 maps performers, GMB Crush can provide insights into how businesses can improve their branding and brand recognition to climb higher rankings.

The brand score calculation used by GMB Crush, which includes the number of reviews, number of indexed pages, page speed score, domain authority, and on-page SEO score, can provide businesses with valuable insights into how they can improve their brand recognition, search engine ranking, and overall online visibility.

14. Business Hours
Google prioritizes accurate and consistent information about a business, including its operating hours, to enhance user experience.
If a potential customer searches for a business, and its operating hours are incorrect or unavailable, they may be hesitant to visit the establishment. This can lead to a negative user experience, which can, in turn, impact your ranking.
GMB Crush's audit feature is a valuable tool that enables you to compare your business's opening hours with those of top-performing competitors. Keeping your business's opening hours accurate and up-to-date is crucial, particularly in countries where Google automatically verifies this information.
By leveraging the audit feature of GMB Crush, you can identify areas for improvement in your opening hours and gauge how your business stacks up against the competition. This is particularly important because Google prioritizes businesses that are open at the time of the search, making accurate opening hours critical for maintaining visibility and driving traffic.

Moreover, by analyzing your competitors' opening hours, you can glean insights into which hours are most profitable and adjust your own hours accordingly. This is especially beneficial if your business is new to the market, as your competitors have likely tested different opening hours and found the most effective ones.
Crush Your Competitors
With GMB Crush you can Audit, Geo-Grid, Optimize, Pitch Clients and Track your Google Business list performances, from just one platform.
To help you better understand how GMB Crush can help, let's check how each feature works.
GBP Audit For Local SEO ( the GMB Audit Feature )
When you access GMB Crush, you can perform an audit of any Google Business list of your choosing against the top three performers in maps. By leveraging the audit feature of GMB Crush, you can pinpoint the exact ranking factors that influence the 3-pack rankings in your industry.
In addition to the audit feature, GMB Crush offers Geo-Grid 📌 functionality that enables you to analyze data and optimize your Google Business Profile for maximum SEO benefits. This includes monitoring ranking patterns and creating compelling SEO proposals that make your pitches irresistible to potential clients.
Competitive Geo-Grid Advantage ( the Geo-grid feature )
The GMB Crush audit feature includes the ability to conduct Geo-Grid and Audit Scans, which can help you understand why certain listings are favored by the algorithm. We provide reliable and comprehensive data points, with no downtime, to collect geo-grid ranking results from both mobile and desktop devices, depending on your preferences.
Our geo-grid feature offers ranking data for the top 20 listings, and for each pin related to its ranking position, we identify the location that the ranking pin is associated with. This helps you determine where your business is ranking well and where you need to improve to achieve better rankings.



Lead Generation Audit ( the Lead Generation Feature )
As a benefit to both monthly and yearly members, GMB Crush offers a lead generation feature at no additional cost. This feature allows you to conduct audits and identify up to 400 unclaimed GBP listings per month, which can significantly increase your influx of leads and potential customers.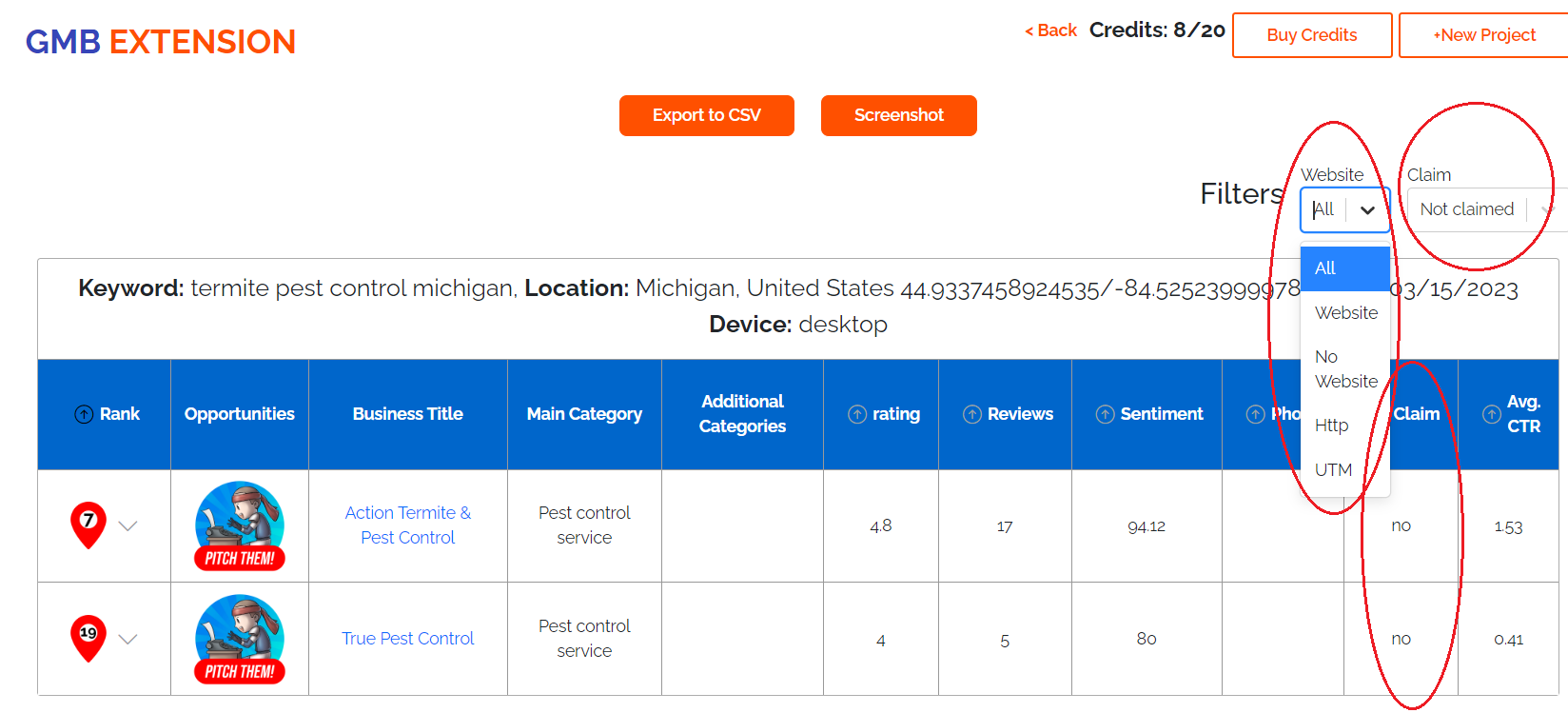 By utilizing this feature, you can identify promising leads and add them to your pipeline, allowing you to pitch your products or services to them at any time. This is particularly advantageous when used in conjunction with GMB Crush's Pitch Deck feature, which can help you make a compelling case for your business and convert leads into paying customers.
It is worth noting that all leads generated through this process can be easily exported via a CSV file.
Overall, the lead generation feature offered by GMB Crush is a powerful tool for growing your business and increasing your customer base. Take advantage of this feature and start generating more leads today!
Google My Business Stats ( the Analytical Feature )
The GMB Crush analytical dashboard can be your primary source of basic business insights, including the following:
The number of views your GMB/GBP profile, posts, and photos received
The current GBP profile CTR
The keywords used by people to find your business
The number of clicks to your website, phone calls, and direction requests ( and more! )
With just a few clicks, you can easily link the local business you manage to GMB Crush and access up to 18 months of valuable data. The analytics dashboard is fully customizable and can be shared with your clients via a short link, enabling you to show them where they stand at any time. This eliminates the need for cumbersome and time-consuming screenshots and attachments.


A simplified SEO proposal ( the Pitch deck Feature )
Leverage the PITCH deck feature of GMB Crush to secure new SEO clients and showcase your mastery of the field. By utilizing data-driven insights, you can craft compelling and visually stunning SEO proposals that render your pitches unassailable.
Through the PITCH deck feature, you can demonstrate to prospective clients where the greatest opportunities lie, what objectives can be accomplished, and how your unique approach will deliver outstanding results. By showcasing your superior expertise and value proposition compared to competitors, you can persuade clients to choose your services with ease.
With the PITCH deck feature, you can craft an impactful presentation that captures the essence of your SEO proposal and elevates your communication to the next level. So, unleash the power of data-driven insights and impress potential clients with the unparalleled value of your SEO services.



Maintain your listing and keep it up to date
Maintaining your business profile is the most basic thing you can do. It's important to note that creating a Google My Business profile is not a one-and-done thing. It requires ongoing action and maintenance to increase your digital presence, keep your customers engaged, and optimize the benefits of your account.
Some of the basic maintenance tasks include:
Adding photos and posts at least once a week
Responding to messages within 24 hours
Encouraging customers to leave reviews for your Google My Business
Respond to reviews
Checking and answering your Questions and Answers part of your profile
Updating your information when necessary

Prioritize areas that need improvement
GMB Crush can be a great tool for identifying the Google My Business features that are working for your competitors and not for you.
For example, if based on the GMB Crush insight, your competitors that are listed in the Local 3-pack are posting updates several times per week, you can look at what you are currently doing. If you just post once a week, try to match what works for them.
Mirroring the strategies that are working for your competitors is a good starting point to improve your optimization strategy.
Keep innovating and improving
Even if your data shows that you are already way ahead of other local businesses, don't stop there. Continue to innovate and improve your overall strategies and don't be complacent.
In the world of online marketing, it's essential to keep in mind that nothing is permanent. Even if your business location is currently ranking high in Google search results, your competitors could already be strategizing to surpass you. That's why it's crucial to utilize the power of Google My Business (GMB) insights, especially if you manage multiple locations, to optimize and track your business's performance and stay ahead of the competition.
With GMB Crush, you can easily monitor how your business is performing across multiple locations and gain valuable business insights. By keeping an eye on your Google My Business metrics, you can identify areas for improvement and stay on top of your business's online presence.
Whether you manage one or multiple locations, optimizing your Google My Business profile is critical to your success. By using GMB Crush, you can gain the knowledge and tools you need to optimize your listings, track your performance, and ensure your business stays visible and competitive in the online marketplace. So, make sure to leverage GMB to its fullest potential and stay ahead of the game.

GMB Crush can be a valuable tool for this purpose.
Looking at the long list of Google My Business optimization strategies can be overwhelming. But don't let this discourage you from doing something that will help your business succeed in digital marketing.
Creating a robust Google My Business profile won't happen overnight. Just create your profile now if you haven't yet and work from there.
Also, take advantage of GMB Crush to help you further improve your optimization strategies and fill in what is lacking in your GBP Profile.

Join us today!
SEO Lover, my motto is Action Over Words.