MarketMuse Free AI Content Tool Explained
As the world becomes more digital, AI content optimization is becoming an increasingly valuable tool for content creation. MarketMuse Free Version is a free AI Content Optimization Tool that makes it easy to plan and optimize your content. This article will go into detail about its features and benefits of using Free Version of MarketMuse's AI Content Optimization Tool.
Difference between paid and free version
MarketMuse has two versions: a free one and a premium one. MarketMuse's free edition is comparable to its paid counterpart. The most significant difference between the free and paid version is scalability.
As you can see in the screenshot above, the free version has 35 queries per month and a maximum of 45 projects. Which is already very generous for a free package!
And the paid version will give you unlimited projects and queries, which is again a significant upgrade regarding scalability.
Is It Worth Using the Free MarketMuse Version?
The short answer, yes absolutely! It`s free so give it a try!
The Free version has many features, you can fully utilize it and if you like the tool you can go ahead with the paid one.
MarketMuse's free edition includes the following main functionalities:
Optimize
Connect
Compete
Research
Questions.
Marketmuse's powerful SEO tools are essential for quick and efficient website content adjustments. Marketmuse has complex data, but it makes information accessible in a user-friendly manner.
MarketMuse's functionalities explained
The tools available through Marketmuse to analyze and improve your content on SERPs are quite extensive. In this section of the MuseMarket Review, we'll look at the features that this program provides to its users.
Marketmuse`s Optimize
Optimize interprets your material in the same way that a web-developing editor would. This allows you to work on your material in a familiar setting. As a result, Optimize is the first functionality that we will explain.
The search term and the URL that houses your material should be entered at the top of the page in the Optimize tool. Marketmuse performs magic by pressing the Run/Fetch button; after a minute or two, your text appears in the workspace/editor area.
Marketmuse places the keywords you should use in your work into the right panel, along with an analysis of your material that includes its content score, Avg, which is the average rating of all webpages connected to your topic, and target, which is the ranking that will have your page on Google's first page. It also compares the word count of your context and compares it with the top players in the niche.
Marketmuse`s Research

The research tool is a content marketing software that queries search engines for up-to-date information. In other words, the study tool utilizes artificial intelligence to seek through existing text for keyword suggestions. You may enter the phrase you want to include in your data in the research bar at the top of the page or let the machine learning program perform an automated site audit and present you with the most common keyword recommendation options using content search.
In the Marketmuse Research tool, you may put in a phrase that you wish the surfer SEO tool to optimize. The SEO tool begins looking for relevant keywords throughout all of the existing content on the internet after filling in the data. Then, as shown in the screenshot above, you have access to a list of suggestions supplied by the machine learning tool.
MarketMuse`s Compete
By necessity, the finest must be superior to the rest. This is reflected in the phrase "beating your rivals in keyword ranks," creating high quality content, and keyword optimization in the content planning world. We'll learn how to use this AI-powered optimization tool to compete against other websites in this part of our Marketmuse SEO tool review.
There are three primary strategies to improve your content in comparison to rivals:
The Heatmap: This sort of diagram allows users to see how their major rivals have utilized the relevant keywords. Your webpage is positioned in the first column in this illustration. Others are organized according on their position on Google's search engine result page. The more frequently you utilize the top keywords, the more likely it is that you will rank highly.

The ListView: The list view is one method to manage your keywords. The list view emphasizes on the word count and overall score of your material, as well as how it compares to the top pages.

Head-to-head view: This type of view is used to compete against a single rival. Sometimes optimizing your content better than one rival might give you the desired marketing optimization. Therefore, using head-to-head analysis, users can optimize their content in a more focused fashion.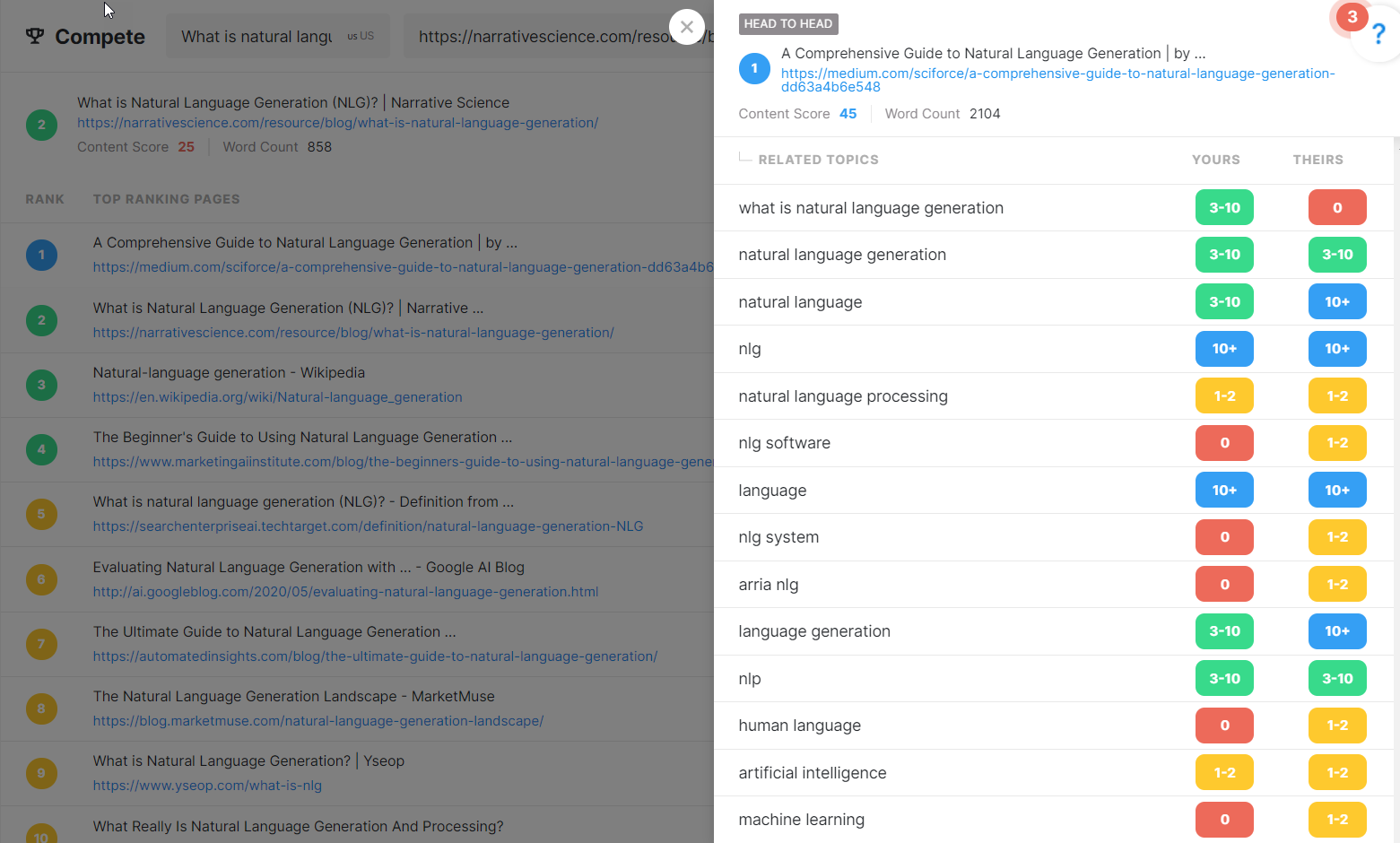 Conclusions
MarketMuse Free Version is a free AI Content Optimization Tool. Marketmuse Free Version has many features which help with content optimization and planning. The most useful of these tools are the MarketMuse Optimize, Research and Compete Tools.
These three tools provide insight into what keywords you should be using in your blog items as well as how to compete against other websites for higher ranking on Google's search engine result page (SERP).
Happy Crush!
SEO Lover, my motto is Action Over Words.